Bigger Than Trauma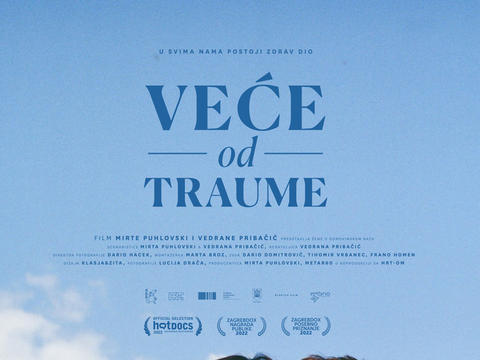 Synopsis:
Over the course of three years, the film follows four women from Vukovar who were among thousands of those that experienced life changing trauma during the war for Croatian Independence 27 years ago. They relate their life stories through a complex process of personal empowerment, and the journey is changing their lives and relationships.
Marija feels that she doesn't deserve to be free;
Katica finds any form of change terrifying;
Ana describes herself as a lonely little duckling that doesn't belong anywhere.
With trauma so deep, it takes an enormous effort to change perspective and reconnect with one's true self. An unconventional healing program brings this group of women together as they embark on an intimate journey to the unknown. Both individually and as a group, they begin to grow and life starts to allow them to become bigger than their trauma.
Festivals where it was shown:
2022. - ZagrebDox (Zagreb, Croatia)
2022. - Days of Croatian Film (Zagreb, Croatia)
2022. - Hot Docs Festiva (Toronto, Canada)
2022. - Sarajevo Film Festival (Sarajevo, Bosnia and Herzegovina)
Awards and recongitions
ZagrebDox 2022 - Special mention
ZagrebDox 2022 - Audience Award
Days of Croatian Film 2022 - Special Mention
Days of Croatian Film 2022 - Zlatna Uljanica Award
Days of Croatian Film 2022 - Ethics and Human Rights Award (ex aequo)
Days of Croatian Film 2022 - Audience Award
Sarajevo Film Festival 2022 - Human Rights award