1991. Goodbye Jugo film, goodbye Yugoslav Film Festival, goodbye Yugoslavia... See you in the following war
(
CROATIAN PREMIERE
)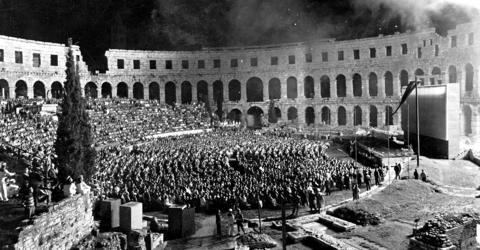 Title: 1991. Goodbye Jugo film, goodbye Yugoslav Film Festival, goodbye Yugoslavia... See you in the following war
Year of production: 2023
Duration: 94`
Director: Igor Galo
Screenwriter: Igor Galo
Camera: Igor Galo
Sound: Dean Pavletić
Editing: Danilo Lola Ilić
Music: -
Producer: Igor Galo
Production: UOFD "Histria film"
Synopsis:
A documentary film about the Yugoslav Feature Film Festival in Pula, in the period from 1953 to 1991, a festival that primarily gathered cinematographers from all the socialist republics of the former Yugoslavia until its tragic collapse. However, the film is not only about that. It is primarily a presentation of the socio-political circumstances in which the festival was founded. Through the testimony of the main actors of FJIF, from its founder Marjan Rotar to all the crucial directors of the festival, film workers, actors, directors, and producers, we question how a festival of such European and world significance was even possible.
From its establishment in 1953 until its violent closure in 1991, the festival depicts the birth of socialist Yugoslavia, its development in social-political, cultural-educational, and economic terms, as well as its disintegration, and thus the disappearance of this unique and unrepeatable film manifestation on a global scale. As was Yugoslavia itself.